Lake Russell is one of three lakes on the Savannah River between South Carolina and Georgia owned and managed by the U.S. Army Corps of Engineers. Construction of Lake Russell was completed in 1984 when the lake reached full pool and became South Carolina's newest lake.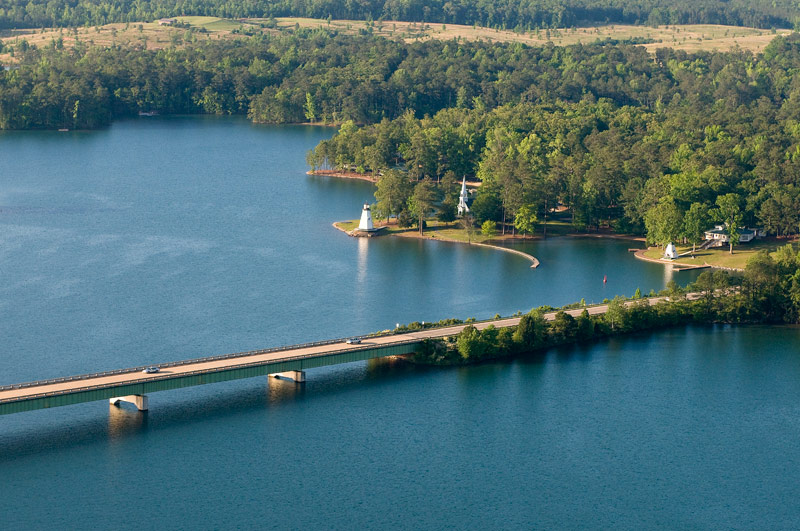 About Lake Russell
Lake Richard B. Russell is located on the Savannah River between two other Army Corps lakes: Lake Hartwell and Lake Thurmond. Because Lake Russell sits between these two lakes, the water level does not drop as severe as lake levels on Hartwell and Thurmond do during times of drought. The lake level on Lake Russell has a range of about 3 to 5 feet below full pool elevation.  Lakes Hartwell and Thurmond can get as low as 15-18 feet below full pool.
Lake Russell is a little different than its other sister lakes Lake Hartwell and Lake Thurmond, because it has very little development on its shoreline. There are houses nearby, but most of them are totally out of site from the lake. When you visit Lake Russell you will feel like you are in the wilderness.

Lake Russell Fishing Report        

Lake Russell Fishing Report from Fishin.com
Video!  Lake Russell on Youtube
Shot on Aug 2nd Lake Russell-Allen Creek
 Lake Russell Video – July 5, 2010
This video was shot at Blue Hole Recreation Area near Calhoun Falls SC
 Lake Russell Lake Level – US Corps of Engineers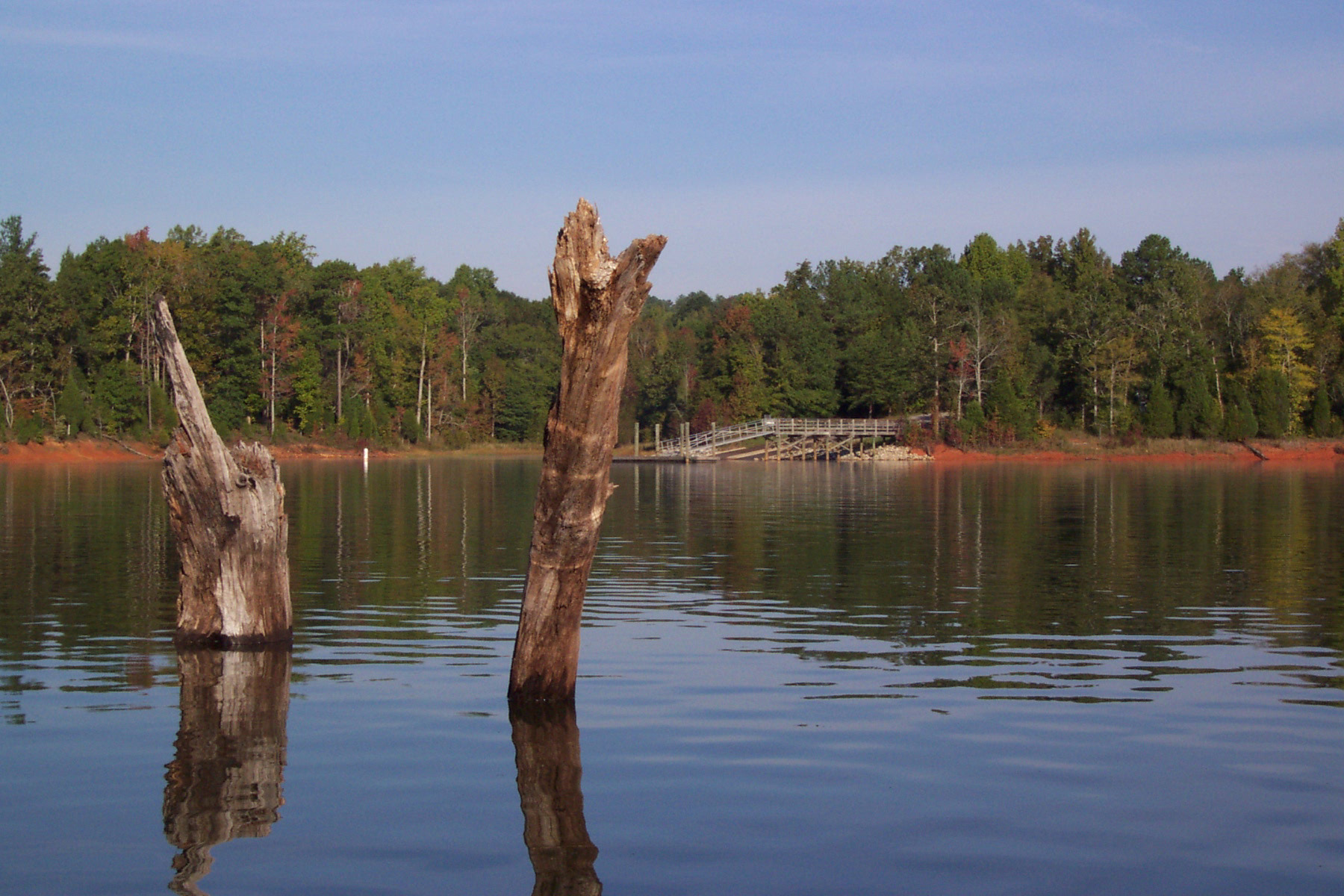 Specifications
Major Highway Access  81 * 184 * 72
Project Management  U.S. Army Corps of Engineers
Dam Completion  1984
Full Pool Elevation  475 Feet Above MSL
Shoreline  540 Miles
Dam Height  195 Feet
Dam Length  1,884 Feet
Turbine Generators  8
Maximum Depth  147 Feet (SCDHEC)
Mean Depth  39.6 Feet (SCDHEC)
Fish Species
Crappie
Bream
Largemouth Bass
LAKE RUSSELL NEWS
Caught  Four Spotted Bass in Lake Russell 
April 2015
Took a trip to Lake Russell where I caught 4 keeper sized spotted bass. I missed some bigger fish. They were in Cold Water Creek near a point in about 20 foot of water. I caught them on a rattle trap.
Allen Creek is a Must for Fishing Lake Russell in South Carolina  
November 24, 2013
If you have ever watched a bass fishing television show, then you know what a bass lake should look like. Well, I can tell you that Allen Creek on Lake Richard B. Russell has this special bass fishing look. It has large areas of standing timber, riprap, blowdowns, extended points, and deep creek runs. The bass fishing look appears so striking at Allen Creek, you would think it was a detailed set creation from a movie. Consequently, there is a slight bit of truth to this statement. Although the lake was not a movie set design, the lake was intentionally designed with fishing in mind, and a certain amount timber was left standing in the creek ends to provide more fish habitat.
The Allen Creek Recreation Area
It is owned and operated by the Army Corps of Engineers. Located near SC Highway 81 close to Lowndesville South Carolina, a small town not far from Calhoun Falls State Park. To get to Allen Creek Recreation Area you will have to take Highway 81 to Lowndesville from wherever you are coming from. Turn on Depot Street in Lowndesville and then take the first right on Horseshoe Road. Then travel a few miles and then turn left on Red Fox Drive. This road will take you straight to the boat ramps.
You can buy food, bait & tackle, and ice in Lowndesville at Johnson's Country Store and Cafe . Once you get to the boat ramps, there are restrooms beside the parking lot. When you get there, be sure you have everything thing you need, because Allen Creek is a wilderness environment with no access to food or stores.

My description of Allen Creek
I will start my description of Allen Creek by mentioning the many streams that flow into this area. These multiple feeder creeks are Allen Creek, Deal Creek, Bowman Branch, and a few more unnamed creeks. The Horseshoe Road Bridge crosses Allen Creek near the boat ramp area and there is riprap located at the base of the bridge which is great cover for bass. Deal Creek (sometimes referred to as Rocky Creek by some) is located across from the boat ramp and extends about a mile back into the wilderness.
It is full of standing timber and must be navigated with a trolling motor only, and your outboard motor should be propped up to avoid hitting stumps. The total length of Allen Creek extends about three miles and runs into the main body of Lake Russell in the Savannah River. Both sides of the main channel in Allen Creek are marked with red buoys on one side and green buoys on the other side. When running your boat wide open you MUST stay between the buoys or you will most definitely hit standing timber and destroy your boat and or your prop not to mention the possibility of personal injury.
Fishing Allen Creek on Lake Russell
Fishing Allen Creek on Lake Russell is certainly worth doing. The cover is almost unlimited. There are standing trees in the water with depths up to forty feet deep. Also, the shallow one mile long Deal Creek is a perfect spawning area. There is excellent fishing here during the pre-spawn period. My fishing partner caught his limit of 10 largemouth bass in Deal Creek in early March a few years ago using a Rapala jerk bait. The Horseshoe Bridge riprap area is another good spot to catch bass. My favorite spot is all the way in the back end of Allen Creek where the water gets shallow. I have caught a lot of fish in this area in the early Spring using a Carolina rigged worm or lizard. Once you identify the right pattern, fishing here will certainly produce nice size keeper bass.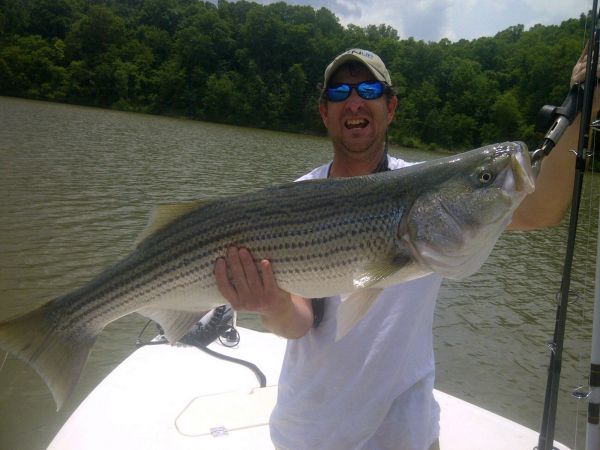 Finally, I consider Allen Creek with all its fish structure and fish habitat to be one big fish haven. Lake Russell at Allen Creek should be number one on your list of South Carolina fishing holes. If by some strange quirk of fate, you fail to catch a fish in Allen Creek, just don't worry too much about it. Because, if you keep going back to Allen Creek you are bound to catch some nice fish there.
Location
Lake Russel on google maps
US Army Corps of Engineers Lake Russell Official Website    
US Army Corps of Engineers – Call for Current Lake Levels:  800-944-7207  – (press 4) 
PARK INFORMATION
Mountain View Park * Abbeville Park * Manor Park
Jim Rampey Recreation Area
Calhoun Falls State Park offers a large swimming area complete with sandy beach, showers, restrooms, and changing facilities.  It is perfect for a day of swimming.

South Carolina Fishing Guides 
South Carolina Lake Links (External Links)
More photos of Russell Lake