Saluda Lake is a 331 acre reservoir located in Greenville South Carolina.  It impounds the Saluda River on the border of Greenville and Pickens counties.  This lake provides the city of Easley in Pickens County a source of drinking water.  Saluda Lake is one of the very few small lakes in South Carolina to have a Bait & Tackle shop located on its shoreline. So, check out Saluda Lake Landing on your next visit.  The landing  is now open under new management with a boat ramp, boat rentals including fishing boats and kayaks, and a full menu of food.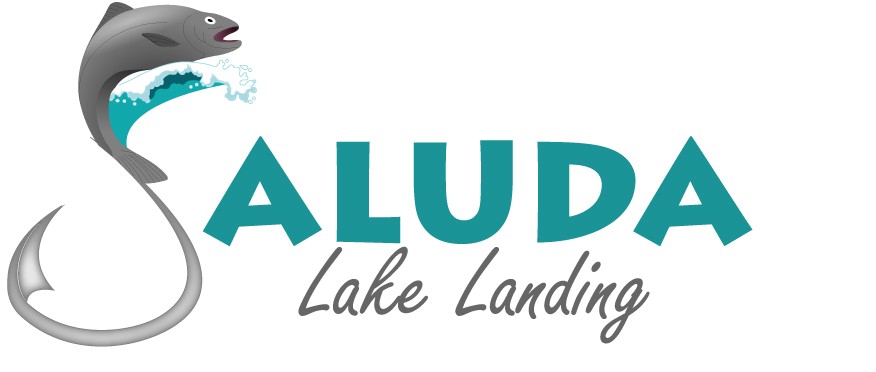 New!

 

Bass Tournaments Every Thursday – See Below
 Note:  The dredging  of the upper end of Saluda Lake has been completed.  All the dredging markers have been removed and the upper end of the lake has more open water to drive a boat across. 

Saluda Landing now offers more food choices which includes a breakfast menu.

Saluda Lake is a 331 acre lake located in Greenville South Carolina on Saluda River.  It lies on the border between Greenville County and Pickens County.  Saluda Lake impounds the Saluda River which flows on through the state into Lake Greenwood and Lake Murray.  The lake was formerly owned for many years by Duke Power Company who then sold it to North Brook Energies LLC and now the current owner is Fins on Saluda.  The dam is visible from Saluda Dam Road.
Lake Size 331 Acres
Location  Greenville, SC  (Greenville County)
Average Depth  22.7 feet
Maximum Depth  36 feet (depth readings 2001 at the dam)
Length  1.5 miles (approximately)
Full Pool Elevation  849 Ft. MSL
Curent News  03-25-12
The dredging operation is continuing.  The section being dredged is on the upper end of the lake where the river enters.   I saw a large area where they have dredged.   This area is still not accessible because the dredging operation has piled up a mud bank surrounding the entire dredged section.
Current Water Temp as of 3-24-12 is 68 – 73 degrees depeing upon your location on the lake.
Report by Danny Norwood
New!   Bass Tournaments are now being held every Thursday at Saluda Lake Landing.  $ 25 Entry Fee.  Start time is at 6:00 pm and weigh in is at 10:00 pm. For more information please call 864-294-9061.
Boat Ramp – Reduced Fee $ 7.00
Boat & Kayak Rentals
Ice
Full Snack Bar
Breakfast – Coffee and Baked Goods
Food  – The Best Hotdogs Around!
Ice Cold Drinks
Full Line Fishing Tackle
Live Bait
Waterproof Lake Maps
Business Hours:
Wednesday – Sunday 8am – 9pm
Phone number: 864-884-4529
Thursday night Bass Tournament Registration starts at 5pm Launch at 6pm  Weigh-in at 10pm
Boat Ramp & Fishing open 24 hours daily.
Owner:   Frank Biggio      Landing Phone :  864-294-9061
Saluda Lake Landing on Facebook
Directions to Saluda Lake Landing
Saluda Landing is located at 605 Motor Boat Club Road off of Highway 25 (White Horse Rd) in Greenville South Carolina. Once you turn on Motor Boat Club Road just drive to the end of the road and the landing will be on the left side of the road.
Boating and Fishing
Boat ramp and docks at SALUDA LAKE LANDING on Motorboat Club Rd. Greenville, South Carolina..
Boats are allowed with no motor restrictions.  However, keep in mind Saluda Lake is a small and shallow lake with average depths ranging from about 10-23 feet with the exception of shoals.  The river end of the lake has the most areas of shallow water with depths as little as 1 foot deep.
Shoals (very shallow water) are marked with bouys.  Your motor will hit the lake bottom if you go across one of these marked areas.
Fishing allowed with a South Carolina Fishing License.
Follow SC Fishing Regulations.
Fish species inludes crappie, largemouth bass, catfish, and bream.
Photos of Saluda Lake Landing