Lake Tugalo is a mountain lake in the upstate of South Carolina located on the western border between Georgai and South Carolina.  This lake is a deep and clear water lake surrounded by moutains.  Tugalo is one of only a few lakes in South Carolina where you can catch trout.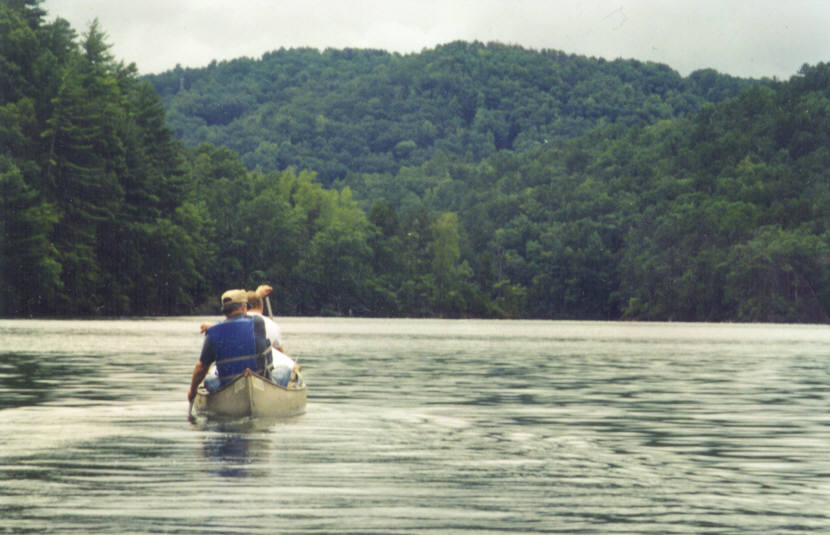 About Lake Tugalo
Lake Tugalo, a mountain lake, is located on the border between South Carolina and Georgia. It more specifically located in Oconee County in South Carolina and Rabun County in Georgia.  It is managed by Georgia Power who also operates and manages many other lakes in Georgia.  The dam on this lake is made of concrete and stands 155 feet high with a width of 740 feet. On the South Carolina side, the surrounding land is part of the Sumter National Forest. Land on the Georgia side is part of the Chattahoochee National Forest.
The lake covers 597 acres and impounds the Chattooga River and Tallulah Rivers.  There is only one boat ramp on the lake, which has recently been upgraded with better parking and a wider road. Other than a few campsites, Tugalo is totally a wilderness area. There are no homes or businesses located anywhere on the lake. Also, Lake Tugalo is a pick-up zone for whitewater rafters on the Chattooga River. 
Fishing Information
South Carolina Fishing License or Georgia Fishing License is required.  (either license will be honored by either state)

A horsepower rating is posted at the boat ramp on the South Carolina side of the lake.  The rating used to be 20 HP but this rating may have been changed in recent years.  Please check regulations posted at boat ramp before launching boat. 

A 12 inch minimum length for largemouth bass is required for fish caught on the Georgia side of the lake. 

Creel Limits may apply here – please check regulation sign at boat ramp for complete information.

The fish population of this lake includes largemouth bass, trout, smallmouth bass, walleye, white crappie, black crappie, white catfish, and bream.  This lake has depths beyond 100 feet, and trolling may be necessary to catch some of the larger trout that swim in this lake.

  
   SCDNR Freshwater Fishing Information
   SCDNR Fishing License Information
     Georgia Lake Tugalo – Great Fishing Information    
   Power of Georgia  – Lake Tugalo page 
   Georgia Department of Natural Resources Fishing License Information
Personal Story
Once upon a time a few years ago, I took a little trip to this beautiful lake.  Here is what I found.
The water is deep and cold, but it is very clear. The lake is surrounded by mountains on all sides. It seems very massive even though it is really a small lake.  The most notable feature about this lake is the fact that there is very little boat traffic. I never had to worry about my boat being rocked wildly by the large wake of huge boats.
The fishing was good. I managed to catch 4 nice size largemouth bass from the water on one trip. Possibly, I could have caught more fish if the temperature had not been 37 degrees with a wind chill of 22 degrees. But the trip was good anyway.  
The surrounding forest is mostly untouched.  There are some campsites around the lake plus the boat ramp and parking areas, otherwise this lake is a mountain wilderness hideaway.
More photos of Tugalo Lake