Swan Lake is one of the most beautiful places in South Carolina. Here you will find the most picturesque nature: beautiful plants, flowers, and animals. The lake is unusual because there is a small Camellia island inside it, which attracts tourists with an excellent view.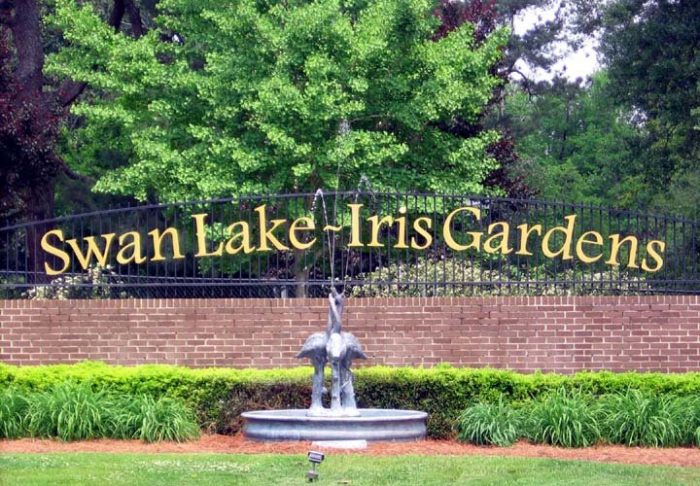 Lake history
Since 1927 Swan Lake Iris Gardens has been a private fishing lake owned by rich businessman Bland. Pursuing a garden project for his house, he planted iris bulbs around his house. This idea failed and Bland threw the bulbs into the lake. In the spring, the bulbs sprouted and turned into wonderful irises. So there was the most beautiful garden in the United States. Already after 1950, Braille garden and Butterfly Garden began landscaping.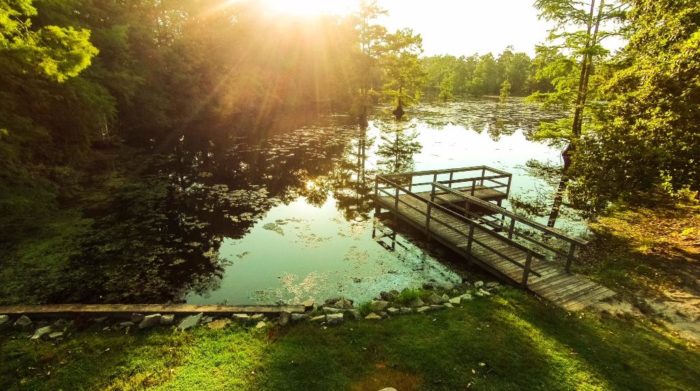 Lake characteristics
Depth is 6,5 feet
Coastline is 3800 feet
Length is 1247 feet
Average width is 656 feet
Square with territories 150 acres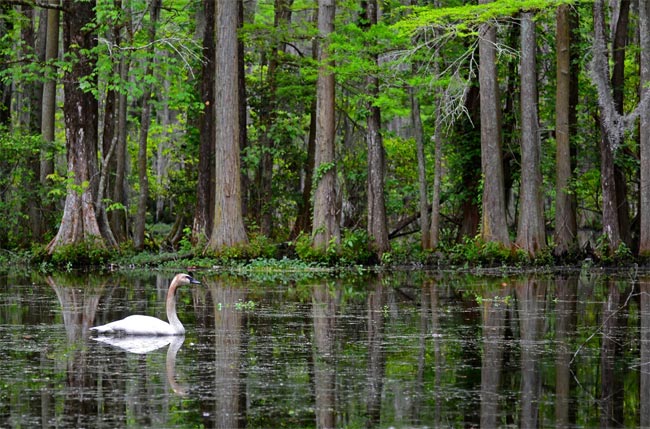 Rules
Swan Lake Iris Gardens is open to the public from 7.30 until late evening. Entry is free for visitors of all ages at any time. Every year about 600 000 people visit this wonderful place.
Visitors Center is open from 8:30 to 17:00. Here you can see beautiful photos of Swan Lake and the surrounding green areas, as well as find out the necessary information and get answers to the questions.
Children after 16 years old are able to walk without adults on the lake territory. You are not allowed to enter with animals into the territory. Also it is prohibited to feed wild animals and birds in the gardens.
Fishing is not allowed here. You can only rent a boat and to swim.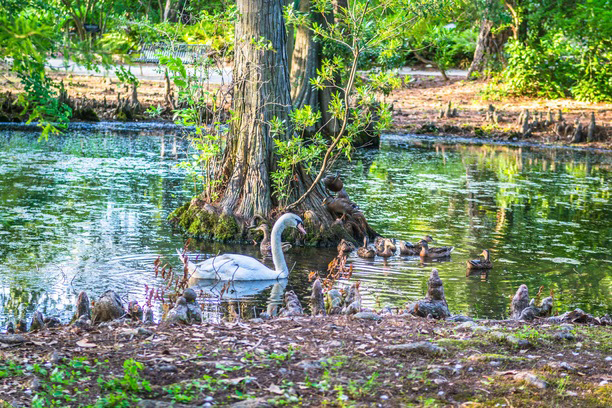 Parks around
On Swan Lake you can walk with children and large companies. Here you will find relaxation and entertainment for every taste. It is best to come to the lake in summer to catch a glimpse of flowering plants and singing birds.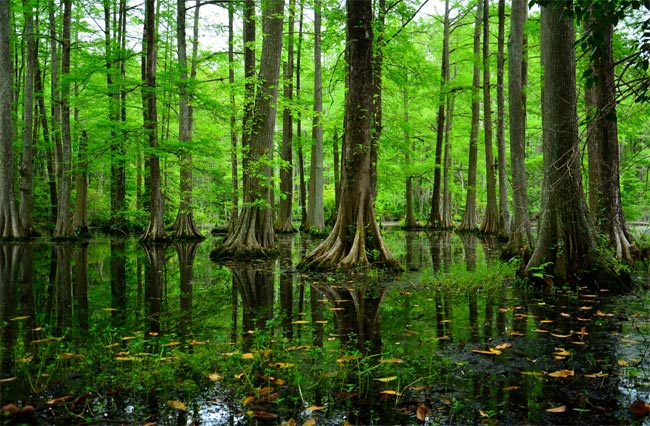 On the territory of the lake, there are amazing parks and gardens. This is Braille garden and Butterfly Garden. Here, with your own eyes, you can see 8 species of swans, royal necks and whoopers. Around the lake grow 150 acres of Japanese iris. And in parks and gardens lilies, azaleas and camellias are blooming.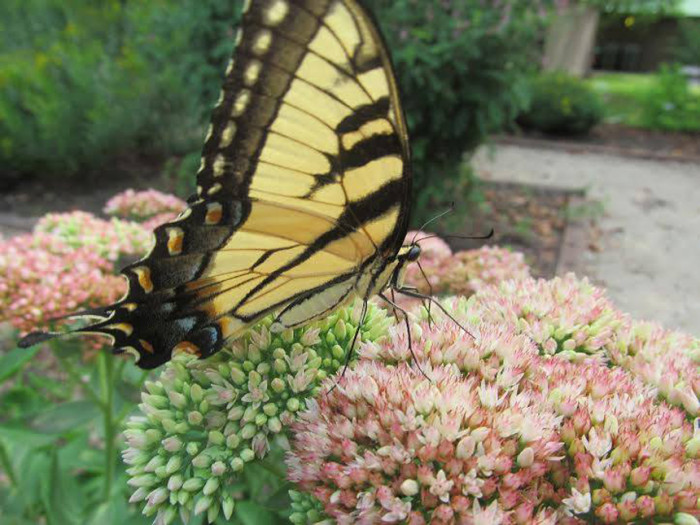 Seeing such a nature, you will not remain indifferent. If you come across 2 streets you will find Little League Park. It is also a suitable place for weekend walks with the family.
Holidays and weekends
There is rarely a strong wind, and the weather often disposes to long walks and admiring the scenery on Swan Lake Iris Gardens. You can rent a boat and ride on the black waters of the lake, watching the birds and butterflies.
If you get hungry, you can always have a snack in the Iris Market. Here you will be provided with hot snacks, salads, and freshly brewed coffee. The market is open every day, but a different number of hours. Working time is better to clarify on the website. As a rule, it works from 13 to 17.
And for lovers of pizza right across the street, Pizza Hut is located within walking distance. The cafe is open all day until 23.00.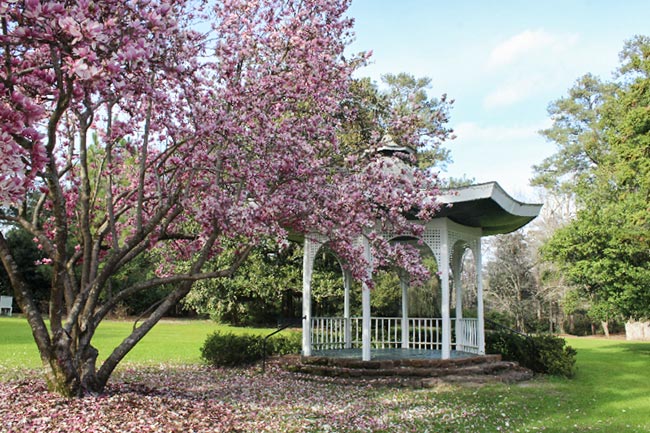 How to get Swan Kale Iris Gardens
Getting to the lake is more convenient by car. It is located along 763 highway in Sumter. When you get to West Liberty Street, you'll be almost there.
Accommodations and property on the lake
There are no campgrounds for the weekend on Swan Lake. Therefore, it is better to come here for a day and just take a walk or ride a bike.
Speaking about buying houses, the Sumter area, where the lake is located, is one of the most sought-after properties in the real estate market. The average price of property in the Swan Lake area is 400 thousand dollars. At this price, you can buy a house with historical architectural elements with 4 bedrooms, a garden and a territory of 0.6 acres.
Where you can find more information
Further links to useful sites are provided if you are thinking of going to Swan Lake Iris Gardens.