Spartanburg Water System owns and operates this 1,534 acre reservoir to provide water to the residents of Spartanburg County.  This is a well managed lake that is open to the public.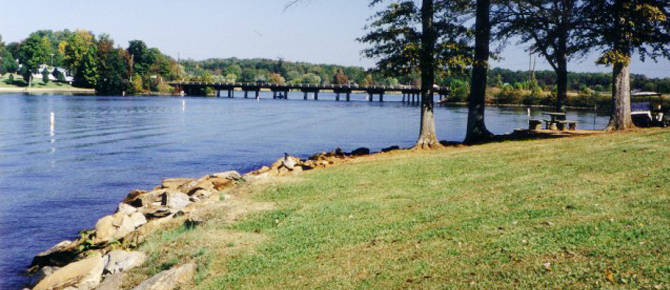 About Lake Bowen
Lake Bowen is one of three lakes owned and operated by the Spartanburg Water System.  It is located near the city of New Prospect South Carolina.  Lake Bowen is a 1,534 acre reservoir that impounds the South Pacelot River. Its primary purpose is to supply water to Spartanburg County residents.  Park is located near SC Highway 9 that includes picnic areas, a fishing pier, and boat ramps.  
Before visiting this lake be sure to check all the regulations and fees associated with this lake. Some of the boating fees are provided below.  However, there are many other rules listed on the Spartanburg Water System official Lake Bowen Page.     
Rules & Fees
(More rules apply – see official Lake Bowen website – link provided below)
Outboard Engine – Maximum Allowed 115 HP

Inboard/Outboard –  Maximum Allowed  190 HP

Boat permit is required – Can purchase at Wardens Office located at lake.

Spartanburg County Resident boat permit – 15 HP or less $ 40 (season)

Spartanburg County Resident Boat permit – 15 to 190 HP $85.00 (season)

South Carolina Resident Boat Permit – 15 HP or Less – $ 145.00 (season)

South Carolina Resident Boat Permit – 15 to 190 HP – $ 175.00 (season)

Out of State  – 15 HP or less – $ 325.00

Out of State – 15 to 190 HP – $ 400.00
For a complete set of Rules and Regualtions for Lake Bowen please check out the Official Lake Bowen website provided by Spartanburg Water System below: 
                                                   Spartanburg Water System Lake Bowen Page 
Location:                Spartanburg County

Size:                       1534 acres

Maximum Depth:       41 feet

Average Depth:         15 feet

Full Pool Elevation:    819 feet above MSL

Roads:  On SC Highway 9 about nine miles north of Spartanburg.  I-26 crosses over the lake.
More photos of Lake Bowen