This is a 1,400 acrea lake located in Abbeville County. Lake Secession has one double boat ramp located on Highway 184 near IVA South Carolina. The Lake Russell map sold on this website has Lake Secession on it.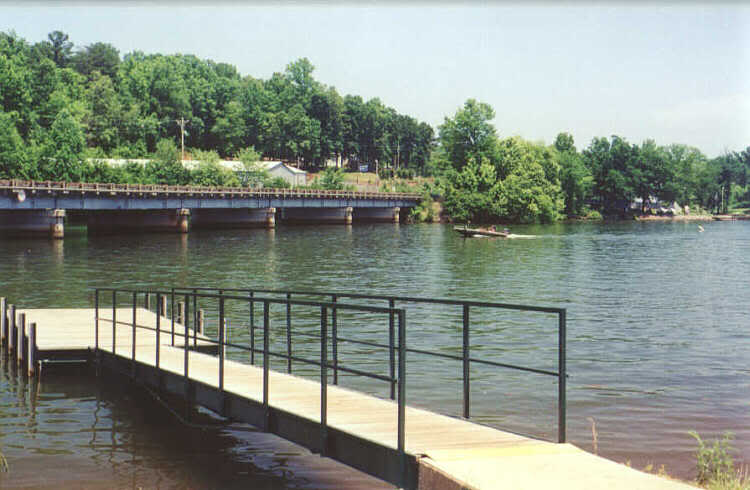 About Lake Secession
Lake Secession is located in Abbeville County about eighteen miles southwest of Anderson South Carolina. It covers an area of 1,460 acres.  The City of Abbeville owns and manages Lake Secession primarily for municipal power production.  The lake impounds the waters of the Rocky River which flows on to Lake Russell  a 26,000 acre reservoir.   Lake Secession was built in 1939 and is one of the most popular smaller lakes in the region. It is more like a winding river than a lake except near the dam.
The lake still has many tree stumps sticking out of the water.  Standing timber can be found in some of the coves and on water at the upper end of the lake where the river comes in.  For this reason boaters should use caution.  Development around the lake consists mainly of  houses and a few businesses.  The City of Abbeville has provided an excellent boat launching facility with two launching ramps off of highway 184.  There is no charge for the boat ramp.    In addition, some lake businesses on the lake provide boat ramps for a fee.  There are no boat motor restrictions on this lake.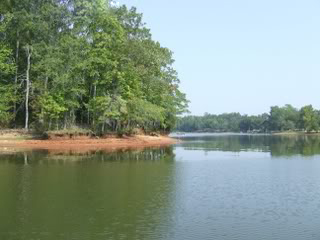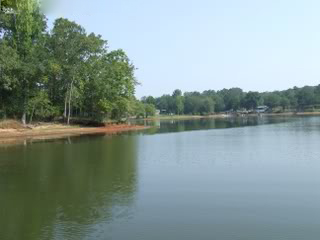 A South Carolina fishing license is required.  When rain comes to the area, Lake Secession turns muddy brown for a few days depending on the amount of rain fall.  Also, on windy days Lake Secession is a good place to go for boaters with smaller boats, which can't handle the waves of the large reservoirs.  Fishing in this lake has been great for years.  I personally have seen two ten pound largemouth bass come out of its waters. Also, in 2006 I caught some very large crappie at Lake Secession.
This fishery includes largemouth bass, stripers, crappie, catfish, and white bass.  The lake has only one highway bridge across it, and that is Highway 184.  Each side of the bridge has rip-rap poured on the banks for erosion control.  The rip-rap is in the form of large rocks.  Sometimes this rip-rap is a great fishing area because the fish have access to the deep water in the river run.  At night many people tie up their boat under the bridge to crappie fish.
My Recollections of Lake Secession
I had a great childhood growing up and fishing on Lake  Secession with my uncle.  We used to camp on the shoreline of this lake and hear huge fish jumping during the night.  These fish sounded like concrete blocks being dropped in the water.  I used to listen to my uncle talk about all the fish that got away.  He was thoroughly convinced that the world record largemouth bass was in this lake, and my cousin  has two ten pound bass on his wall from Lake Secession.
One day while bass fishing I caught a seven pound striped bass from this lake.  Just like my uncle, I have had many large fish get away from me on Lake Secession.  Most of my losses were from broken lines.  Lake Secession is certainly a lake with the potential to produce some very large bass and possibly a record breaker fish.